INTEGRITY, 

SKILL, CONVENIENCE
At Abbey Collision it's our customers who set the standards, and they set them high. Our customers demand integrity. They trust us to ensure that the vehicle they drive their kids to school in is as safe now as the day they bought it. Our customers depend on the skills and experience of our technicians to do the job right – the first time, and every time. And our customers rely on us to minimize the disruption to their lives by providing temporary transportation and taking care of all the insurance paperwork. We're proud to say we've lived up to their expectations and we're committed to continuing to work hard to do that every day. 
About Our Award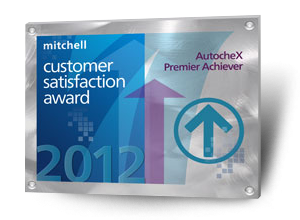 Abbey Collision Ltd. was the only collision repair shop in the Fraser Valley, and one of only 15 in BC to receive the 2012 AutocheX Premier Achiever Award.

The award recognizes collision repair shops across North America for achieving excellent customer satisfaction scores in the top five per cent of thousands of participating shops. The surveys are conducted independently and objectively by AutocheX and track key award criteria such as the shop's ability to keep the customer informed, providing on-time deliveries and quality repairs, and the customer's willingness to recommend the shop to family and friends.

Experience the high standard of service our customers demand. Call 604.854.1177.